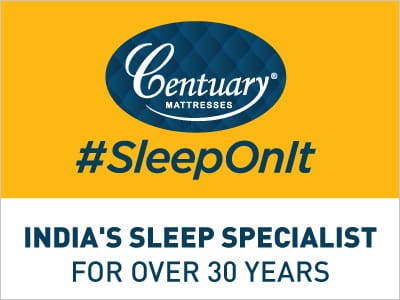 Established in 1988 as a manufacturer of rubberised coir, Centuary Fibre Plates (P) Ltd. is now a household name in India when it comes to mattresses & sleep solutions. It combines world-class infrastructure, certified processes and proprietary technology to deliver products of the highest quality, comfort and durability.
It doubled its manufacturing capacity in 2004 and is now the second largest manufacturer of rubberised coir in India and amongst the top 3 mattress brands, with more than 1200 employees. Centuary sells and exports natural, eco-friendly and sanitized rubber coir products, which play an important role in the bedding, furniture and seating industries.
Centuary prides itself in being India's sleep specialist, catering to the needs of one billion who deserve a good night's sleep. It is the first Indian mattress manufacturer to hold the ISO 9001-2015 certification for its quality management system and the first company in India to introduce innovative products such as Ortho foam & green gel technology
Shree Malani Foams (P) Ltd, also part of the Shree Malani Group was started in 2008; and manufactures and sells slab stock polyurethane foam under the brand name Cenflex. This brand is also promoted by the house of Centuary brand of mattresses. Its technical and industrial foams are supplied to various consumers and converters where as its furniture and mattress grade foams are widely distributed through an extensive retail channel. Cenflex's product range encompasses e special foams like 'memory foam', 'flame retardant foam', and 'lamination grade foam'; to name a few.