Your first flight with a baby is as big a milestone as their first steps, first solid food or first day at school or day care. And like all those milestones, parents can feel understandably overwhelmed leading up to their first time flying with a baby. No one knows how a child will react to being on an airplane for the first time. But worry not—With some planning, the right items, and a whole many lists, flying with a baby or young kids could be made easier than you think.
Best Tips for Travelling With Kids
Here are our best tips for travelling with kids so you'll arrive at your final destination with plenty of holiday spirit and energy to spare!
First things first: Be Prepared.

Whether you're doing a long trip or a quick one, schedule it around nap time. If you're taking a red-eye or a night flight, schedule it to coincide with bedtime. If your baby's sleep schedule isn't disrupted by the travel, everyone will have a pleasant journey.

You are your baby's pharmacy when travelling. Whether it's a cold, fever, stomach bug or just plain old crankiness, do yourself a favor, and at the very least carry some baby Benadryl, a paracetamol, and a baby thermometer.

You want to arrive early at the airport/station. But not too early either. This minimizes stress and allows your little ones time to acclimatize with the new environment. Half an hour earlier than you'd arrive if you were traveling baby-free is usually the sweet spot.

Portable bottle sterilizers are a life-saver. This will ensure your baby always has a sterilized bottle. 
What to pack when travelling with a baby?
Since this is your first time travelling with a baby, you'll be taking significantly more items than you've traveled with before. Our recommendation? Make a comprehensive list of the major items (i.e., the car seat, stroller); the bags you're checking in; and the bags you're carrying on. Do a head count of your bags like they're children on a school trip when you get to the airport/station, and at every stage since. As for what to bring? This list should help:
And what should you leave behind at home? Anything you can get where you're going: baby food, diapers, wipes. A quick trip to the grocery store when you arrive at your destination should sort that out. While all other necessary items for travelling remain the same, here are a few helpful tips for different modes of travel. 
The best  way to keep a baby from crying on the flight, is to give them milk or formula on takeoff and landing (the cabin crew will brief you on this too) —this helps babies adjust to the change in cabin pressure. Though remember that f the baby is going to be strapped in, nursing might be hard, so consider a bottle or maybe even a pacifier. 
Train journeys are likely to be longer and spending long hours in a new environment can be stressful and overwhelming for both you and your little one. 
Carry sufficient quantities of milk in a thermos bottle, and if your baby is already on solid foods, carry enough fruits, cereal and packaged fruit juices. 

It is going to be up to you to keep your baby comfortable as well as entertained, so keep a good stock of their favorite toys and books. 

Booking a lower berth might be more convenient and comfortable for both you and the little one. 

Pro Tip: Babies love looking outside the train windows – that can keep them entertained for hours!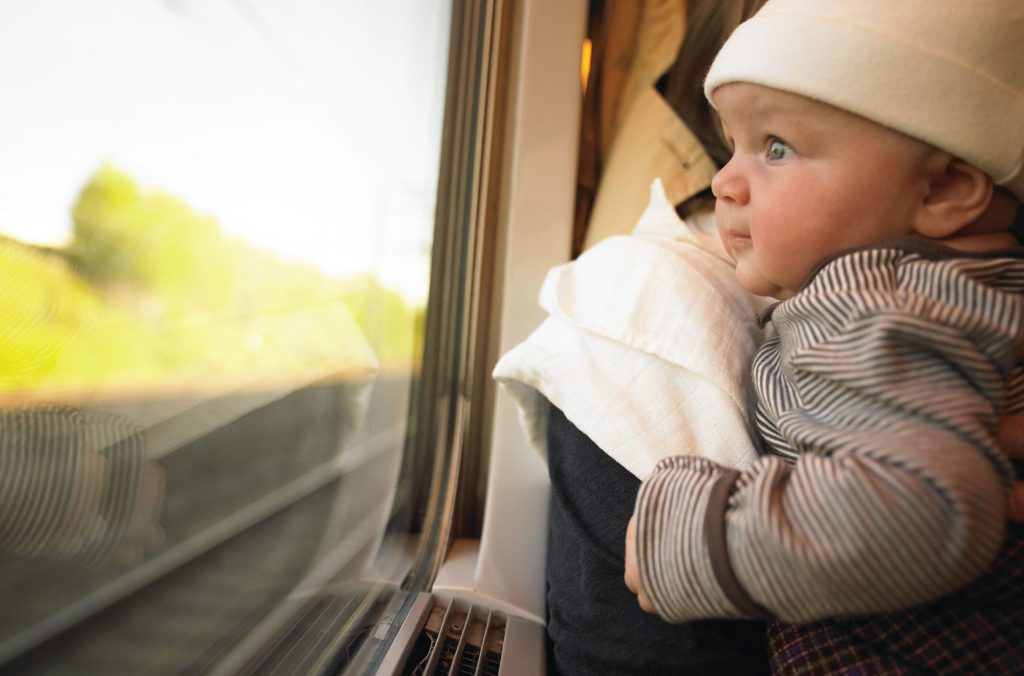 For a road trip, you want to ensure your baby's car seat is properly installed.

 Get some removable window shades to protect your baby's eyes and skin from the harsh sun.

Make sure your baby gets plenty of sleep before the trip, so they're likely to be less cranky on the journey.

You can set up a phone/tab in their car seat, so they're entertained on the drive.
Travelling in the pandemic-era?
Does your baby need to wear a mask? Well for children below the age of two, the answer is no.
We hope these travel tips go a long way in making your first flight with the baby a little easier!